Can hyperscalers provide a blueprint for sustainability and performance for data centres and enterprises?
Interact team | March 17, 2023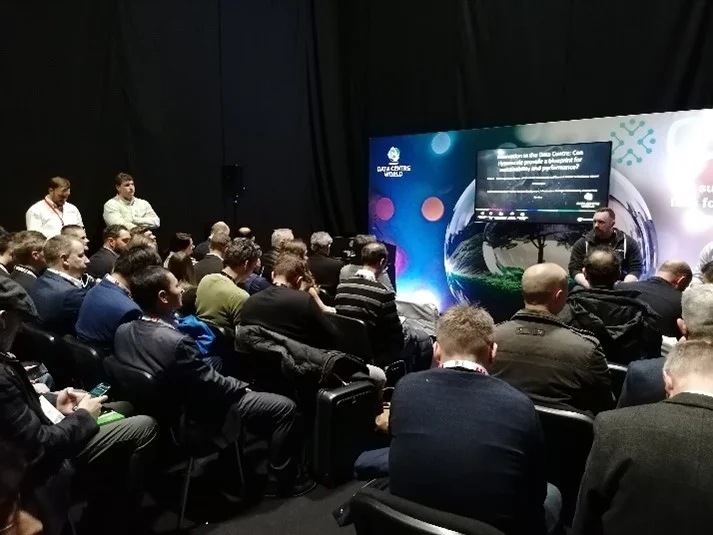 In a packed theatre at Data Centre World London 2023, Rich led a fireside chat with Alex Watson-Jackson of Amazon Web Services about how hyperscale are approaching the end-to-end cloud migration process and what large data users can learn from them as new sustainability legislation starts to bite. Alex is Principal, Business Development, Infrastructure Strategic Collaborations, part of the DC (datacentre) infrastructure group, responsible for businesses who are going hybrid.
Green legislation for large companies is gathering speed and large organisations must now demonstrate progress against a raft of sustainability standards (including the Corporate Social Responsibility Directive from the EU).
As Rich Kenny explains, 'in some areas, hyperscalers are ahead of the curve in this respect, and can help us draw up a blueprint for large compute and data users, to ensure they are ready for oncoming legislation, and to help them with ESG risk reduction. This is especially true around some of their construction and water initiatives.'
Up to standard
Aside from building standards such as BREEAM and US version LEED, there are five areas that large data users will need to cover:


Energy efficiency


100% carbon-free energy


Prioritise water conservation


Repair and reuse servers


Circular approaches to heat reuse


Of the five areas, energy efficiency is the first element an organisation must address before moving onto the others. That can be addressed through the set of KPIs that form the ISO 30134 set of standards:


Water Usage Effectiveness (WUE)


Energy Reuse Factor (ERF)


Power Usage Effectiveness (PUE)


IT Equipment Energy Efficiency for servers (ITEEsv)


Equipment Utilisation for servers (ITEUsv)


Renewable Energy Factor (REF)


Carbon Usage Effectiveness (CUE)


Despite concerns over the transparency of their carbon reporting, in many cases, hyperscalers are showing the rest of the data centre and enterprise sectors how to embrace innovation to make meaningful change. Where hyperscalers like AWS come top of the class is that, rather than a lazy lift and shift approach (whereby all the inefficiencies of the existing on-premise are carried over to the cloud), they find out what their customers actually need.
As Alex explained, 'Unless you have a perfectly designed cloud-ready network, which is very rare, lift and shift doesn't work. The moment you move to cloud you'll see what you actually use – AWS bill for what you use. It's hugely cost saving to make sure infrastructure runs only when you need it to.' This applies to running systems 24/7 when the company only runs an 8 hour day office. As AWS puts it, 'it's important to understand the current database workload' and optimise the estate for energy efficiency and performance prior to migration and before a net zero plan is drawn up.
This is where sustainable IT startup Interact comes in. Amazon Web Services uses Interact to help their customers understand where they are right now, to identify poorly performing servers and deliver digital transformation projects (such as rapid consolidation), pre-migration. Interact was able to provide this visibility for one telecommunications customers of AWS – the cost savings and carbon footprint change was huge. The lesson to other data centre and enterprises is to find out what compute they need before they migrate and optimise their estate at this point. As IT is responsible for 65% of a data centre's total energy consumption, it makes sense to prioritise IT optimisation before focusing on efficiencies relating to the building itself.
Rather than adopting a generalised strategy for all their customers, AWS design for workload. One exciting development is their use of specialised silicon high-performance, low carbon AMD chips specific to a customer's workload and activity, such as machine learning and AI-specific chips.
Transforming the construction sector
Novel approaches to the build environment is another area in which hyperscalers are leading the charge: providing a use case for the wider construction sector and creating a market for low-carbon construction materials. Globally, steel manufacturing accounts for 7% of CO2 emissions and cement manufacturing accounts for 8% of CO2 emissions and demand is growing. In the words of the UN Programme, the Global Alliance for Buildings and Construction, 'In fast-growing developing economies, construction materials are set to dominate resource consumption, with associated GHG emissions expected to double by 2060.'
As a rule of thumb, 80% of a product's (building) carbon footprint will be Scope 3, which encompasses the materials, supply chain and end-of-life treatment. Increased scrutiny in Scope 3 particularly by financial institutions will affect investment into the construction industry.
Rich notes that, 'This is a great opportunity for the data centre sector to influence the construction world; if data centres can do it, any building can.'
AWS's sustainability innovations include investing in startups who build carbon-reducing technology, for instance, low-carbon concrete (using 20% less carbon than conventional concrete) and green steel. AWS have built their first seaweed farm, located next to an offshore wind farm, for carbon capture and as a food source.
Other sustainability projects AWS are implementing include the use of recycled water to cool their data centres and the diverting of wastewater to farming irrigation systems, together with building energy storage systems alongside their renewable energy plants to ensure the constant energy supply necessary. Although, we don't yet know how these innovations will work on a smaller scale, these novel approaches to the build environment are creating the driver to change and could de-risk the use of sustainable materials and techniques throughout the construction sector.
Closing the loop
For AWS, the last step in the migration process is to help customers exit their buildings in the best possible way. If necessary, this means buying the existing building and hardware and reusing the majority or working with partners to reuse and recycle the hardware to minimise landfill usage and extend product life. For the building, they identify if it can be converted back to office space and therefore used for much longer.
What is crucial for AWS is that they do due diligence on the partners they use to 'close the loop'. AWS typically use the Responsible Recycling® (R2) Standard for servers, which is focused on data cleansing and security and chain of custody, as it is more specialised than the Waste Electric and Electronic Equipment (WEEE) Regulations.
As the demand for green energy grows, customers will increasingly look to partner with sustainable data providers. It can be difficult to know where to start on your sustainability journey. Luckily, hyperscalers are creating a blueprint for enterprise: optimise the hardware for the compute you need, identify the right businesses to partner with, build sustainably and, finally, exit the existing data centre responsibly.