Great to be back in person! DCW London, March 2022
Rich Kenny | March 22, 2022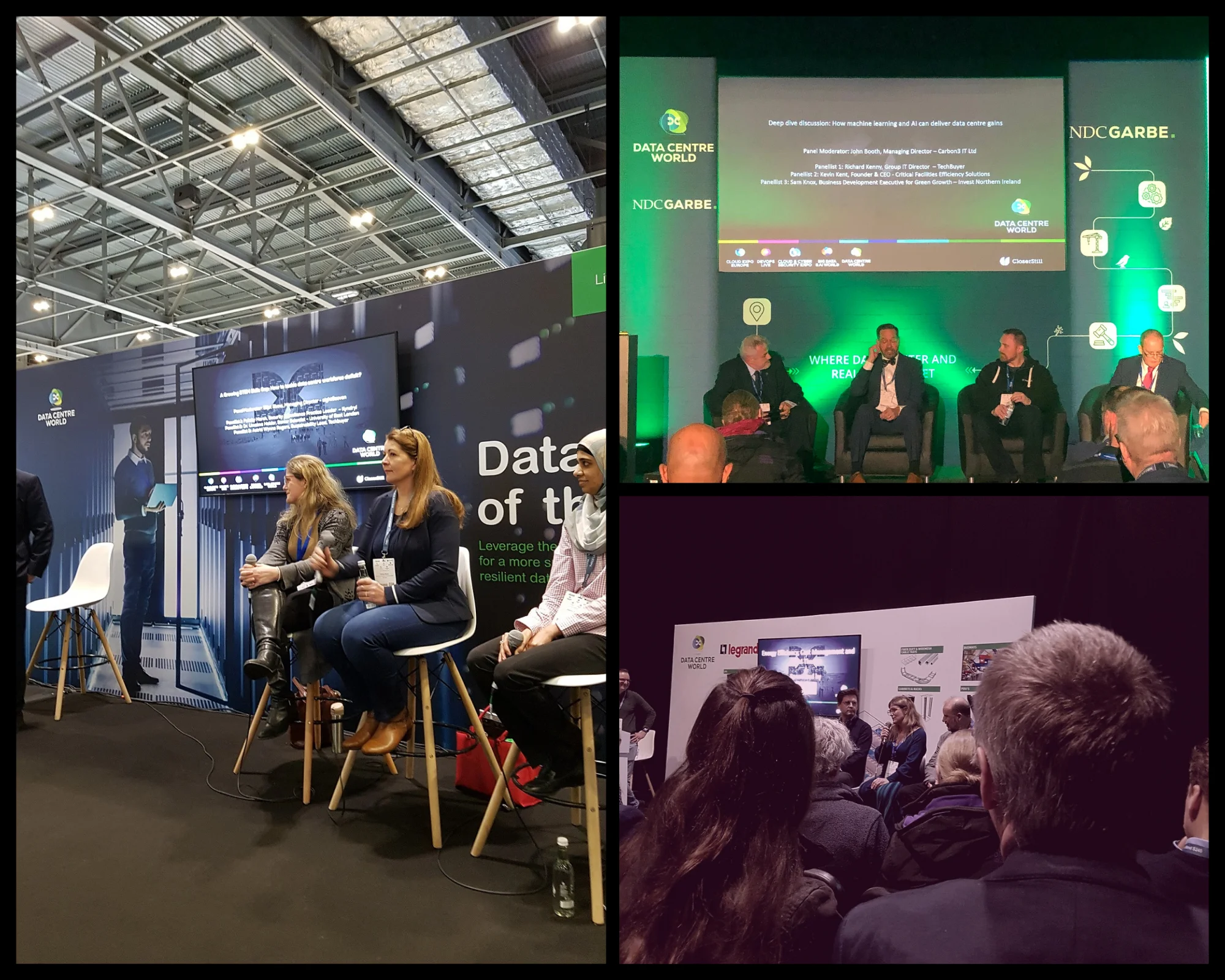 Data Centre World London relaunched with a bang this March. Most of the Interact team were delighted to be able to attend in person. Our Head of Sustainability, Astrid and myself were invited on three panels between us. The discussions covered key components of strategy in the sector: legislation, innovation and diversity in skills gaps. Our Commercial Manager, Mark Hoggart and I had a series of face-to-face meetings with current and potential future partners.

A key theme of the conference was sustainability, as the sector continues its push towards Net Zero and in some cases to become carbon negative. For us this translated into a number of useful conversations with major cloud providers interested in optimising energy efficiency on cloud estates and managing migrations. Interact provides them with the possibility of accurately measuring the difference between potential customers' existing server carbon footprint with that of the same workload on a cloud platform. This currently is a series of best guesses and averages, whereas Interact provides concrete numbers to work with.

As this event was the first to go live after a long period of virtual events, it was hugely well attended, especially on day one. For us it meant we were able to have key face to face meetings new resellers and partners in Europe and the USA. We were also able to catch up with some of our UK partners, such as Relltek and DC4U, discuss progress so far and strategies for the future. Their expertise in related areas such as finance and decommissioning is enabling us to hone our offer further and deliver value add to our customers. Another interesting development that came up during DCW was a series of consultation projects with Original Equipment Manufacturers which are likely to be launched in April 2022.

In amongst all this we were able to discuss some of the macro issues facing the sector with our peers from other companies and research organisations. Astrid Wynne appeared on the panel "Climate action: Carbon neutral data centres – beyond the energy source" alongside representatives from Research Institutes Sweden, the Sustainable Digital Infrastructure Alliance, Reveman Energy Academy and NDC_GARBE Data Centres Europe on the morning of the first day. Day 2 saw me enjoy giving a deep dive into Machine Learning and AI for Energy Efficiency alongside Carbon 3IT, Invest Northern Ireland and Critical Facilities Efficiency Solutions. In the afternoon, Astrid jumped on "The Growing STEM Skills Gap: How to tackle data centre workforce deficit?" with representatives from the University of East London, Kyndryl and the Data Centre Alliance.