Nour Rteil | April 16, 2021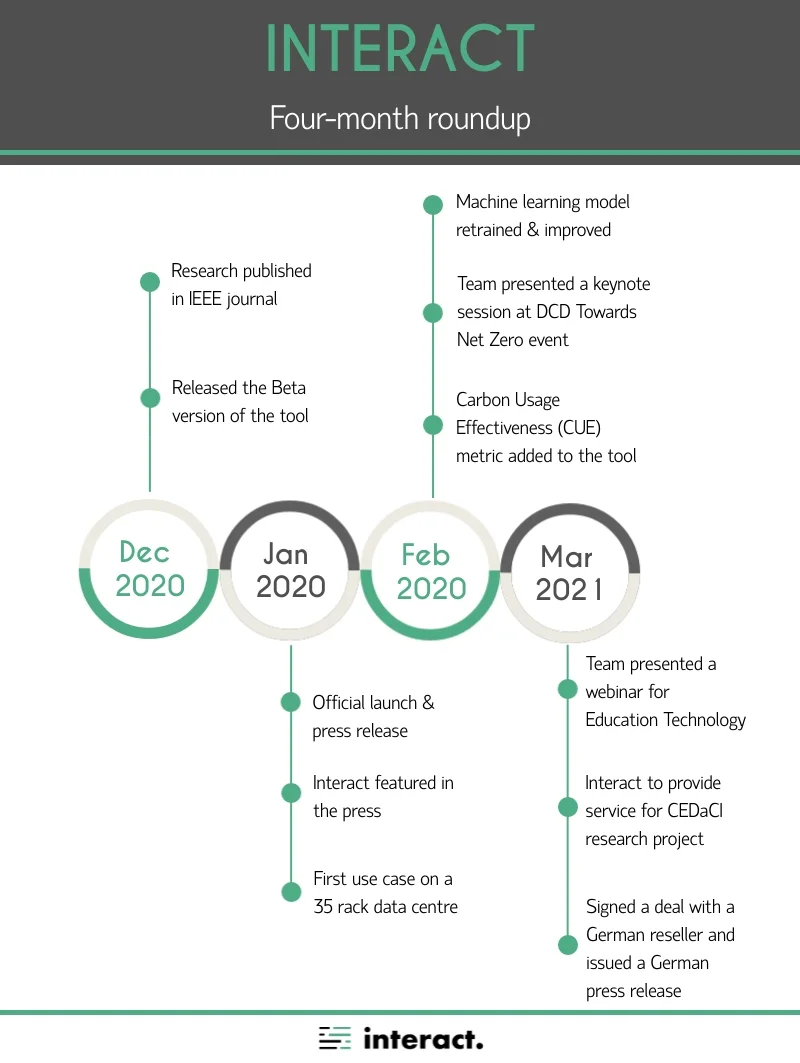 Interact launched on January 12th, 2021 to help data centers optimize their servers' energy consumption and reduce their overall environmental impact. Since the launch, we have been able to present our research at several events, make various amendments to enhance the tool, and provide services to different projects and organizations. Below is a recap of the main milestones that have happened since December.
Research published in IEEE journal – Dec 2020
Our research, developed through a partnership between the University of East London and parent company Techbuyer, was peer-reviewed and published in IEEE Transactions on Sustainable Computing in December 2020. The research highlighted the server refresh opportunities, in terms of cost and environmental impact, of upgrading old servers (older than 5 years) to younger refurbished servers (younger than 3 years). The results quantified the energy and cost savings of server reuse in data centers and were our main motive for building the tool. The paper is publicly accessible through this link.
Released the Beta version of the tool – Dec 2020
The Beta version of the tool was released in December after several tests. This version contained more than 400+ stored server specs, 1400+ cpu specs, as well as 240+ configured server models with their prices. These specs are continuously updated to make the experience as seamless as possible for the user.
Official launch – Jan 2021
Interact launched on January 12th as a SaaS company offering a web tool that enables users to enter their data center details and upload a list of their existing servers. When the required information is uploaded, the tool invokes a trained machine learning model that will automatically estimate the servers' annual energy consumption and performance. From this information, Interact helps data centers evaluate their current IT infrastructure, identify the least efficient servers, as well as gain tailored recommendations to lower costs and improve the overall energy efficiency of their site.
Interact featured in the press – Jan 2021
Shortly after the official launch, the news was picked up by several publications, including: • The Data Centre Alliance (DCA), a trade association that brings together data center experts and leaders. • Data Centre & Network News, news outlet sharing the latest UK news in the sector from machine learning to data protection. • Thomas Net, a US-based organisation that delivers supplier information and shares business and industry insights. • Techerati, a community bringing together technology businesses and experts. • The Yorkshire Times, A Voice For The North sharing local news.
First use case of a 35-rack data center in the North of England – Jan 2021
Interact was able to deliver a comprehensive report for a thirty-five rack data center located in the North of England in January. The report provided the data center with a solution that would save them over £850,000 and 1,812,300 kWh over five years, based on their existing infrastructure and preferred selections. You can read more about this use case at this link.
Team presented a keynote session at DCD Towards Net Zero event– Feb 2021
We were very pleased to present our latest research findings at DCD Towards Net-Zero event that took place in February 2021. In that session, we explained the reason behind our research, experiments conducted to measure the energy efficiency of servers, and the results. We also demonstrated the cost analysis of upgrading to refurbished servers vs new servers. You can watch the session on-demand by registering here.
Machine learning model retrained with additional features – Feb 2021
Initially, the model was trained to predict the server's power and performance using the following features: Server's release year, RAM capacity, number of CPUs populated, CPU cores per chip, CPU threads per core, and CPU frequency. In February, the model was retrained, with additional server records, to include 2 more features: the server's hardware vendor and the server's form factor. This resulted in higher model accuracy. To make Interact as practical as possible, some of these features will be automatically extracted from a list of preconfigured server and CPU specs, so that the user is only required to obtain the list of servers containing the following details: Server model, Quantity of CPUs, CPU model, and RAM capacity.
Team presented a webinar for Education Technology – March 2021
Interact's Head of Strategy, Rich Kenny, and Head of Partnership, Astrid Wynne, discussed the most efficient and sustainable way to renew IT infrastructure in a webinar for Education Technology in March. The discussion included how to buy IT equipment at great prices, extend the life of existing hardware, and futureproof your IT strategy. You can sign up for the webinar at this link.
Carbon Usage Effectiveness (CUE) metric added to the tool – March 2021
The impact of operational carbon usage is becoming extremely significant in the design, location, and operation of data centres. For that purpose, the CUE metric has been added to Interact. It is calculated by multiplying the PUE by the carbon emission factor (CEF), which is determined relative to the site's location. It is important to note that CUE, is specifically limited to Scope 1 and Scope 2 emissions, and does not cover the full environmental impact of the data centre and IT equipment. This is why we've ensured that the estimated scope 3 emissions are included in the report.
Interact to provide service for Interreg funded research project CEDaCI – March 2021
Interact's energy efficiency metrics will contribute to CEDaCI's IT life cycle analysis, as part of its work to assess and encourage circular economy practices within the data center industry. CEDaCI is committed to driving sustainability for data centers by bringing together stakeholders from all equipment life cycle stages to turn e-waste into a useful resource and support the ongoing rapid growth of the DCI, and we are pleased to announce this collaboration.
Signed a deal with a German reseller and issued a German press release – March 2021
Interact launched into the German market by signing a deal with a German reseller, High Knowledge GmbH in March. HTE is a leading provider of cost-effective R&D and technology solutions in the energy & refining, chemical & petrochemical, and environmental industry. Interact also issued a German press release later that month.

It has been an incredible journey for us and we're continuously working on making Interact better. We plan to expand the tool to include additional features to help data centers reach their sustainable goals faster. We are also keen on sharing the knowledge behind Interact and publishing an academic paper that will present the machine learning algorithm and energy models used to estimate the energy efficiency of servers as well as demonstrate the main features and real-life use cases for Interact. Moreover, our team is always committed to attending events to promote the importance of server refresh and reuse for the environment and businesses alike.